---
Opinion & Use Disclaimer: The views and opinions expressed on this blog are solely of the author or other contributors and do not necessarily reflect the views or opinions of Pinitech LLC. All data and information provided on this blog is for informational purposes only. No liability is assumed by the author(s) or Pinitech LLC for use, or misuse, of the information presented.
---
5101 NVRAM Module **now DUAL CE only**
Posted on 05/24/2017I've decided to do away with offering the "LIGHT" version of the 
5101 NVRAM Module
, at least from the shopping cart stand-point.  The module was offered as two versions, one with some additional circuitry to handle both chip enables at a slightly higher price-point since it required some additional soldering -- the other that bypassed that circuit and just handed the single chip enable.  The issue with these modules (along with the 5114 module) is the compact size / small footprint makes for a more complicated build and assembly is much more time-consuming than the other modules.  So with much thought over the first half of this year, I'm just going to drop the "LIGHT" version and also drop the price of the "DUAL CE" to match the pricing of 6116/6264 modules. The downside to this is I'm significantly cutting into my labor rate, but the upside is it's less confusing to have to explain the differences between the two versions.  If the assembly becomes too much of a headache, I may just go back to a larger pcb footprint for the module.  I really like the compact look of the current design, but most people are probably sticking these in their machines and not really admiring the beauty of a small board :)  For now though I have plenty of boards to use up, so enjoy the lower pricing!
Back From Pinfest!
Posted on 05/09/2017Got back from Pinfest a few days ago.  Saw quite a few familiar faces & despite being horrible with names, I recognized many people from last year!  Thanks to everyone that stopped by to say hello or purchase some nvram!  I'm sure I missed some people since it got incredibly busy at times with also helping with the project machines my father brought along, so I apologize if anyone stopped by with questions and I was busy.  I kept inventory very light this year anticipating I wouldn't have time to build out a full assortment of products or answer questions about diagnostic tools, etc like last year... and definitely glad I did since it got pretty busy at times just with what was brought along. Now that the show is over, I'll be refocusing efforts toward a few products I'd like to get a leg-up on with inventory.  5101 nvram is definitely one of those items.  I just didn't have time to get a bulk amount ready before the show, but I'd like to get quantity discounts re-added for those.  Diagnostic tools will still likely remain a "special request" type of item for assembled boards.  I'll likely add DIY KIT options back to the shopping cart on those but don't expect to get much pre-assembled for those anytime soon.  If there's anything you're interested in that's not available via shopping cart, send an email & I'll see if I can work it into the mix.
Availability On Some Items (Diagnostic Tools, etc)
Posted on 03/04/2017If you've visited recently, you'll have noticed diagnostic tools and some other niche items have had some limited availability in the last few months.  This has mainly been due to lack of time to build these items on-demand while I was working through a bunch of project machines.  The good news is,
shopping cart links will be restored soon for items that have had limited availability for the start of 2017.  
I'll be updating shopping cart links sometime over the next week or two so that DIY Kits are available for anything I already have kits packaged up for... instead of having the shopping cart links completely down for those items.  Assembled options may still be by email request  or wait-list sign-up for a bit, until I can get ahead of inventory.
Items Coming Back-In-Stock
Posted on 12/08/2016Have a few items now back-in-stock.  First up, the
Neoloch Inquisitor IC Testing System
 is once again in-stock and we're shipping the latest version with the PIA blade that also tests 6532 RIOTs.  Only have a handful of these, but will re-order much sooner if they sell out quick.  Also back are the Bally/Stern Bench LED Display, Bally/Stern Lamp Driver Board Tester (assembled version) and Bally/Stern Solenoid Driver Board Tester... as well as the MEGA BUNDLE for most of the Bally/Stern testers in one bundle price.  One last item is an AMBER DIGIT OPTION for the
Bally/Stern DIY LED Display Conversion Kits
.  Some of these items may experience a bit of a delay in shipping from time of order since they'll be assembled on-demand (mainly the Bally/Stern diagnostic tools or MEGA bundle).
Black Friday = SUCCESS :)
Posted on 11/29/2016Seriously.  Thank you to everyone that purchased from PINITECH over Black Friday Weekend.  This was the first time we were able to offer a Black Friday Sale & it was a lot of fun!  A lot went into prep'ing, a solid couple of weeks building out inventory.. needless to say a bit exhausting.  But worth the effort!  We'll be digging out of orders for the next few days, but just want to give a BIG THANKS!! to the people that have supported PINITECH from day one.. and also to any new customers that just placed their first order!  The website's already getting decorated some for Christmas -- and once we have a chance to get ahead of inventory again, you'll see a few of the items that haven't been in-stock for a while come back.  You should also start seeing some Holiday sales offered around the 1st or 2nd week in December.  And it's *very likely* we'll run another "VERY MERRY GIVEAWAY" contest like we did last year where we'll be giving away all kinds of cool prizes.   And who knows what other kind of crazy stuff we'll think of between now and the New Year.  Tis the season! :)
Future of Diagnostic Equipment
Posted on 10/30/2016For about 3yrs now Pinitech has been designing and selling diagnostic tools for pinball machines.  We've enjoyed helping others find easier ways to repair their boards and machines -- and appreciate all the support from the community & positive feedback from customers over these years!  While we don't plan to stop creating or offering diagnostic equipment entirely, we do expect some delays in availability of some items going forward as focus changes to less-niche types of products.  What does this mean for the future of diagnostic equipment from PINITECH?  Read on for more discussion.. Every project no matter how big or small is a gamble.  Risk versus reward.  And if it's a new idea -- it requires a lot more R&D than something someone else has already figured out.  There's wasted materials just getting to the "final" product, there's tons of time spent working through issues, creating a solid product, developing documentation.  It doesn't matter if it's a product with a market of millions or a market of 5 people, the same amount of time and effort could go into each -- but with *very* different financial outcomes and chance for growth.
Some people won't execute any idea unless there's at least 50x units spoken from the start.
I can see why.  Especially on niche products.  There has to be a guarantee that initial costs can be recouped almost immediately, otherwise you've got funds tied up -- space tied up for bulk materials / inventory that may take decades to sell through or may never sell.  After a few years of developing some of the most niche products you could offer an already niche pinball community (ie. diagnostic tools) and hoping I could grow demand over time -- I've realized it's still such an incredibly small market being appealed to.  The products are a once-and-done sale.. most repair techs will only need one of any diagnostic tool.  The limited market also limits the chance for people to spread-the-word as would happen with a product selling in larger volume with many more happy customers.  Since it's the same amount of work to develop something niche with an incredibly small market that gets tapped out quickly or a less-niche product that can sell multiple times to the same person, it makes sense to be heading in a less-niche direction. So starting in 2016 I've began to focus more on products/ideas that can provide growth.  I'll be continuing to do that going forward.  This doesn't mean I won't still be working on some diagnostic tools -- either things I've already mentioned or new ideas, but those types of products definitely won't receive the same focus as products that will have greater market appeal. So what does this mean for you?  
Well, if you're interested in diagnostic equipment for WINTER 2016 you may want to pick a few things up sooner-than-later.
 I expect to be looking at sales numbers in the last few years for various products & anything with very low sales will have shopping cart links replaced with a waitlist link.  Until there are a dozen or more people signed up, showing commitment to purchase.. I'll hold off on restocking materials/pcbs for that item. Offering the really niche products in "batches" like this should prevent excessive funds from being tied up in one-off materials for items that only sell a few times a year. So the bad news is.. expect to start seeing delays in availability of some items.  The good news is, as I put more focus on the items that have greater sales potential -- I'll have funding to bring the community more new products & will continue stream-lining those products to offer competitive pricing.  All this and there's still a way to get what you need by signing up on the waitlist(s) and encouraging others to sign up! Thank you to everyone that has supported PINITECH and these *very* niche products over the years.  We look forward to bringing you more new & exciting products, just maybe a little less niche this time around :)
Classic Bally/Stern Plasma to LED Display Conversions
Posted on 09/11/2016One of the main projects that's kept me busy this year is finally in BETA TESTING.  It's a conversion kit for converting out-gassed, burnt digit or otherwise bad plasma displays for Classic Bally/Stern games into LED Displays.  I'm calling them
RETROFIT DIY LED Displays
.  They require an existing [but dead/dying] Bally or Stern display and the kit will include a new LED panel PCB to replace the plasma glass & the components that need to be swapped out on the old Bally/Stern display's "component board" to convert to LED.  What you get in the end is an efficient LED display that pretty much matches efficiency of any of the aftermarket displays & at a price that's much more friendly on the wallet.  Read on for more details.. Here are some current pictures of things.. WHITE displays with color filters being tested & a native BLUE digit set in a Black Beauty Shuffle Alley.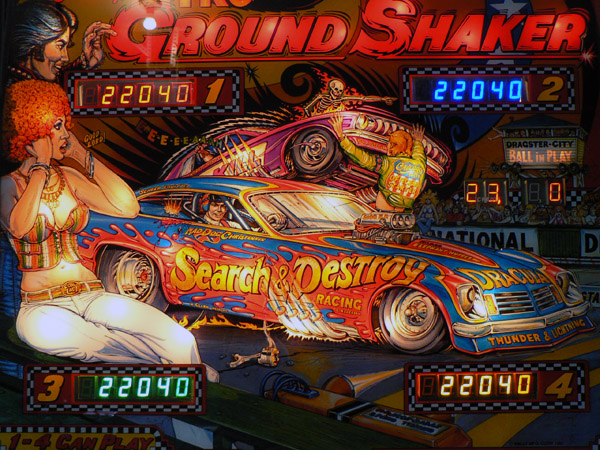 Picture: WHITE "RETROFIT LED Displays" (players 1-4, not the credit display)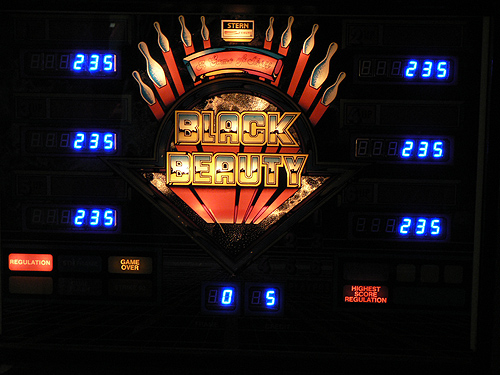 Picture: BLUE "RETROFIT" LED Displays These are a great budget-friendly way to upgrade to LED displays for people that have the right soldering/desoldering tools & technique that don't mind a weekend project to create something cool out of old, otherwise unusable (except for spare parts) dead Bally/Stern display boards.  For less than the cost of 2x aftermarket displays you can upgrade an entire machine to LED displays.  Best of all, you finally have something to do with those dead displays you've been saving for spare parts.  Breathe new life into old technology & save a few bucks at the same time! More info on these conversion displays:
http://www.pinitech.com/products/ballystern_conversion_led_display.php
July 2016 Updates
Posted on 07/21/2016It's been a busy couple of months.  If you've visited the website in June/July you probably saw a notice that shopping cart links were down or there was a possibility of shipping delays on orders due to a large house project that's taken up most of my time.  The good news is, that's wrapping up and I'll have some time to get caught up some.. addressing some products that I've run low on inventory & have had to remove bulk discounts on.  NVRAM is one of the affected items, since I took most of the small amount of remaining inventory of boards I had to the Allentown show and haven't had a chance to reorder PCBs & materials to continue with offering bulk discounts on those.  Should have bulk discounts available again in 3-4 weeks when I get some more materials in for those.  I'll also be getting back into a few projects I was working on earlier in 2016 and there will likely even be a few new products available soon!  More on that in the coming weeks..
« Older Entries