Products
>>
Pinball Memory Modules
>> 6116 NVRAM Module for Pinball Machines (also replaces 2016, 4016 RAM)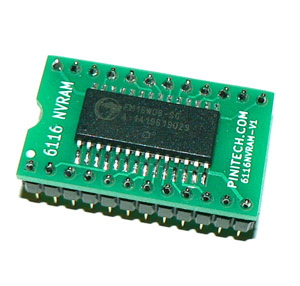 6116 NVRAM Module
No more batteries!
This is a Nonvolatile RAM (NVRAM) Replacement for the 6116 RAM used in pinball / arcade machines. Replaces a 6116, 2016, 4016, 9128 or compatible pinout 2k x 8 SRAM. These modules use CYPRESS F-RAM nvram ICs rated at 151-year data retention & 100 trillion reads/writes. Absolutely no batteries are needed to retain your high scores or game settings, you can remove them from your game. Machine pin headers are used in this module which are very durable and won't damage your socket at all.
Please note that on some games this will require removal of the existing RAM soldered to the board & installation of a 24-pin DIP socket (now included!!). Please see the compatibility list below for more info.
WHY REPLACE YOUR EXISTING RAM WITH NVRAM?
Unfortunately battery corrosion damage is much too common in games that used alkaline batteries for powering the RAM when the pinball machine is off. Many people have reported that even new batteries from major brands can sometimes leak after a year or two for no apparent reason. The corrosive alkaline can leak or wick into the board and over time will destroy the copper traces on the board and any ICs it comes in contact with. Don't let this happen to your game!
COMPATIBILITY
We've created a list that should help you easily identify what NVRAM to get for your machine(s). In addition, the compatibility chart below has diagrams of where the RAM is located on your board(s), difficulty of installation/upgrade & notes on the upgrade.
BOARDSET
DIFFICULTY
RAM LOCATION
NOTES
BALLY 6803
EASY
U4
(see picture)
Plug-and-Play installation, existing RAM is socketed. Simply swap out the existing 6116 SRAM for the 6116 NVRAM Module. Once installed, you will then need to use the keypad and go to "Test" to enter operator mode. Then hit "A" until "Feature Options" is displayed. Hit Enter. It will say "Reset Factory Is". Hit 6, then 5 on the keypad. Then hit Enter. Hit "Game" to return to attract mode. This will set the nvram to factory defaults & then allow you to coin-up the game.
DATA EAST SYSTEM 1 (ie. Laser War)
EASY
(see notes)
5D
(see picture)
Plug-and-Play installation ON "Laser War" ONLY!! Laser War is the only Data East game that used a 6116 NVRAM. For all other Data East games, use the 6264 NVRAM Module.
WILLIAMS SYSTEM 9
MODERATE
U18
(see picture)
NOT PLUG-AND-PLAY. Requires removal of existing RAM & installation of a socket! Williams System 9 games did not have their RAM socketed from the factory. Unless someone has replaced the RAM and installed a socket, you will need to remove the existing RAM IC and install a 24-pin socket.
WILLIAMS SYSTEM 11
MODERATE
U25
(see picture)
NOT PLUG-AND-PLAY. Requires removal of existing RAM & installation of a socket! Williams System 11 games did not have their RAM socketed from the factory. Unless someone has replaced the RAM and installed a socket, you will need to remove the existing RAM IC and install a 24-pin (or 28-pin) socket. Additionally there may be a jumper change required. NOTE: MOST (POSSIBLY ALL) SYSTEM 11 GAMES USED 6116 SRAM FROM THE FACTORY, BUT IT'S POSSIBLE IF SOMEONE ALREADY INSTALLED A SOCKET FOR THE RAM THAT THE BOARD COULD BE USING A 6264 SRAM (IN WHICH CASE YOU'D WANT THE 6264 NVRAM MODULE). CHECK YOUR BOARD & IF THERE'S A SOCKET AT THE RAM CHIP YOU WILL NEED TO VERIFY THE RAM CURRENTLY INSTALLED IS A 6116 (OR 6264) AND PURCHASE THE APPROPRIATE NVRAM MODULE. THE VERY FIRST SYSTEM 11 BOARDS (System 11, System 11A) WILL ONLY WORK WITH 6116 NVRAM. Jumper Settings (System 11B/11C boards):
Jumper W5 installed (W6 removed) = 6116 NVRAM
Jumper W6 installed (W5 removed) = 6264 NVRAM
*NOTE: EACH MODULE NOW INCLUDES A FREE 24-PIN IC SOCKET!
ARCADE GAME COMPATIBILITY
This nvram should also work in the following arcade games:
Bally/Midway - TRON, Two Tigers, Kickman, Satan's Hollow, Timber, Wacko, etc.
Sega - Championship Baseball, etc.
Capcom - Ghosts and Goblins, etc.
Atari - Dig Dug, Xevious, Pole Position, etc.
Many more arcade games that used a 6116 or compatible RAM!
Your current RAM might not be labeled as a "6116" -- some RAM manufacturers used different numbering on their RAM like "NTE2128" for a 6116. The easiest thing to do is to write down the numbers on the RAM IC (located via the pictures above) and Google it to see if it's an 2K SRAM (6116), 8K SRAM (6264) or 32K SRAM (62256). If in doubt, please contact us with a picture of your RAM or the number on the chip and we'll help you out.
COMPATIBILITY WITH OTHER DEVICES
This memory may also work in other applications where a 6116 RAM is used, but cannot be guaranteed to work in applications not listed & should not replace memory in critical circuits without proper testing. Note that the F-RAM chips latch each address on the falling edge of the /CE (chip enable) line, so in the hardware being upgraded the /CE line must be toggled for every read/write (not tied to GND). The chip enable circuit can be verified via schematic, but the toggling of the chip enable line on every read/write would need to be verified via logic analyzer. If you find this nvram compatibile with other devices, please let us know.
--- NOTE ON BOARDS REQUIRING SOCKET INSTALLATION --- Boards listed as "*requires socket installation" above (mostly just WILLIAMS mpus) will likely require the existing SRAM to be desoldered/removed from the board and a socket installed in its place. If you do not have proper equipment or experience to desolder ICs and install a socket, this mod may not be for you. Williams System 11 and WPC boards have delicate traces and without proper equipment or technique you may end up causing damage to your board. Please be aware of this before purchasing the nvram module and understand the risks involved in attempting to upgrade your board. Any attempt to modify your board is AT YOUR OWN RISK. If you aren't comfortable with performing the modifications (should your board require any for nvram installation), please seek professional installation or use a remote battery pack instead.
Shipping Information
NVRAM is shipped in anti-static foam & anti-static bag inside a small USPS First Class Mail box. Installation instructions are included.
---
6116 NVRAM Module
Price: ON SALE! - 14.95 each or less
Bulk Discounts Available. See below.
Regularly $16.95ea or less. Bulk pricing also at sale prices!
---
SHIPPING AVAILABILITY

This item ships only to United States, Canada & Australia
SHIPPING INFO
ASSEMBLED "Pinitech" PCBs are manufactured in the US and are currenty only shipping to the United States, Canada & Australia.
DIY Kits and Bare Boards may be available to other international customers. See below for details. Australia, Canada Customers:
There is a minimum order of $25 (before shipping) due to higher international postage costs. Orders exceeding $400 or 4 pounds in weight must ship Priority Mail International & you will be contacted if additional shipping costs are due. Full order value is declared on customs declarations, no exceptions. Other International Customers:
We do not currently ship assembled pcbs to EU at this time. Paypal is configured to accept only orders from United States, Canada & Australia.