Products
>>
Other Test Equipment
>> Skee Alley Bench LED Display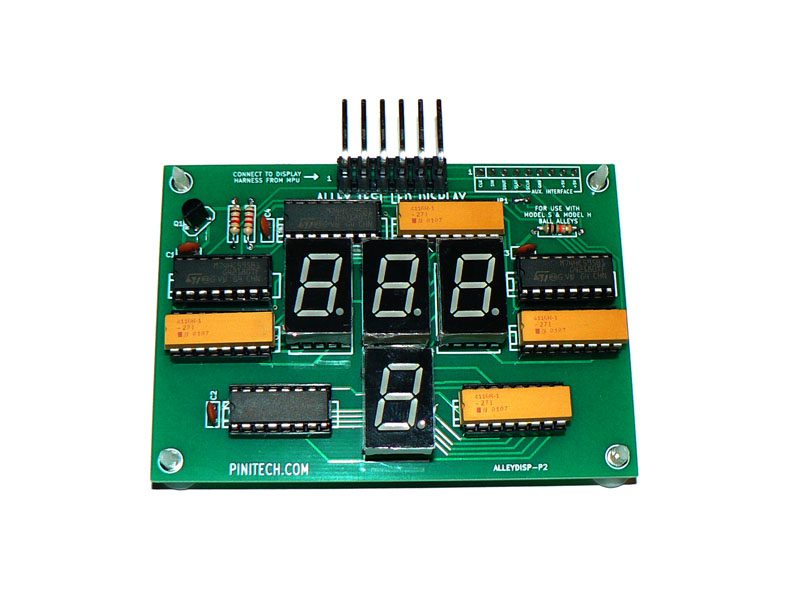 Skee "Alley" Bench LED Display
This is a miniature led display for use in testing Skeeball Model H & Model S control units. Useful as a diagnostic tool to anyone servicing these alleys that wants a small, compact display for testing in-the-field or at the bench. The board measures about 4" x 2.75" so it's very compact to carry in a toolbox -- almost fits in your pocket! You can use the wire harness from a regular display (same pin-out).
NOTE: NO WIRE HARNESS IS INCLUDED AT THIS TIME.
NOTE: THIS IS NOT A FULL-SCALE SKEEBALL DISPLAY! This is a miniature display for diagnostic testing only. This makes a great tool for helping to isolate where a fault is when troubleshooting Skeeball Model H & Model S alleys. You can easily identify if a problem is with a display board or with the CPU unit. Board will be fully assembled & ready to go. Limited instructions/tips included, as these work like a normal display -- plug in & go! All ICs are socketed, led digits are also in socket strips. Please also note that the led digits will have a faint flickering on the segments that are not supposed to be lit, while data is being shifted to the display. This is normal for these units when working with led displays due to how the CPU unit is sending the data. Only had a few of these made up & the extras are being sold off. Unless there is significant interest these will have very limited availability.
Features
Uses only +5v for the leds
Extremely small/compact, board measures just under 4" x 2.75"
Connect in-game for quick verification of Skeeball control unit display circuitry
At the bench it allows you to "see" the game is booting
Uses the same pinout as normal Skeeball displays so you can utilize the same wire harness to connect
Display Usage
Easy to connect to a Skeeball Model H or Model S MPU since it uses the same pinout as normal Skeeball displays.
"Skee Alley" Bench LED Display
Price: $125.00
SHIPPING AVAILABILITY

This item ships only to United States, Canada & AustraliaTHIS ITEM MAY BE AVAILABLE AS A DIY KIT TO OTHER INTERNATIONAL CUSTOMERS (please inquire)
SHIPPING INFO
Items are shipped from the United States. ASSEMBLED "Pinitech" PCBs are manufactured in the US and are currenty only shipping to the United States, Canada & Australia. DIY Kits and Bare Boards may be available to other international customers.
See below for details.
Australia, Canada Customers:
$25.00 minimum order (excluding shipping fees) for international orders due to postage costs. Orders can be submitted via shopping cart, but may be rejected if not meeting the minimum order amount. Orders exceeding $400 or 4 pounds in weight must ship Priority Mail International & you will be contacted if additional shipping costs are due. Customs values are declared as the order value.
Other International Customers:
Paypal is configured to only allow direct orders to the United States, Canada & Australia. You may
contact us
to see if a DIY kit can be shipped for the item you're interested in, but unfortunately we are not shipping assembled items to other countries at this time.