Products
>>
Pinball Diagnostic Tools
>> Bally/Stern Bench LED Display
Bally/Stern Bench LED Display
Compatible with the following MPUs: Bally-17, Bally-35, Stern MPU-100, Stern MPU-200 This is an LED display for classic Bally/Stern games that is connected to the J1 connector on the MPU board and is meant to be used to assist in testing/diagnosing issues with MPU boards. It's mainly intended for people that repair boards at the bench and want to be able to "see" that the game booted up properly, test that memory backup is working correctly, simulate scoring, etc. Without a display at the bench, you can only test so many things before you need to put the MPU back in a game for further testing, but a lot of wasted time is spent pulling the board for work at the bench, fixing an issue, putting it back into a machine, etc. This LED display easily connects to the MPU at the bench with minimal connections and allows you to view Players 1-4 or the Credit/Match display easily. Please read below for further details.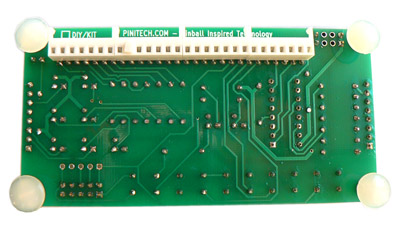 Features
No high voltages, a normal bench test power supply can be used
Uses momentary buttons to switch between each player display and credit/match displays
Jumper block next to momentary button to "lock-on" to a specific display
Allows you to "see" if a game is booting
Can be utilized on the bench with other switch testing tools to simulate playing a game
Makes it much easier to diagnose other issues when repairing boards at the bench
Works with 6-digit or 7-digit games
Can use used while MPU board is in machine to verify display circuitry
Plugs directly onto J1 MPU board connector (no harness required)
Display Usage
The bench LED display connects directly to J1 on the MPU board. You then just connect 5v and GND wires to your bench power supply (or to GND/5v inside the game). Once the display is connected, you can either install a jumper block to "lock on" one of the displays or remove the jumper & push the momentary switch buttons to switch between player displays. The buttons allow you to easily switch between displays. If you have other testing equipment like a cabinet switch tester (not included) or switch matrix tester (not included) -- the display will allow you to simulate playing a game. You can add credits, start a game for up to 4 players, simulate scoring & losing a ball, watch the ball count go up & play through a whole game. It can also make testing switch circuitry on the MPU at the bench much easier since you can enter switch test mode & used along with a switch matrix tester, it would allow you to find switch issues on the MPU before installing the board back in the machine.
Bally/Stern Bench LED Display
Price: Fully Assembled $69.95, DIY KIT $44.95
Please CONTACT US for availability if interested in this item.
SHIPPING AVAILABILITY

This item ships only to United States, Canada & AustraliaTHIS ITEM MAY BE AVAILABLE AS A DIY KIT TO OTHER INTERNATIONAL CUSTOMERS (please inquire)
SHIPPING INFO
ASSEMBLED "Pinitech" PCBs are manufactured in the US and are currenty only shipping to the United States, Canada & Australia.
DIY Kits and Bare Boards may be available to other international customers. See below for details. Australia, Canada Customers:
There is a minimum order of $25 (before shipping) due to higher international postage costs. Orders exceeding $400 or 4 pounds in weight must ship Priority Mail International & you will be contacted if additional shipping costs are due. Full order value is declared on customs declarations, no exceptions. Other International Customers:
We do not currently ship assembled pcbs to EU at this time. Paypal is configured to accept only orders from United States, Canada & Australia.