Products
>>
Pinball Diagnostic Tools
>> Bally/Stern Cabinet Switch Tester
Bally/Stern Cabinet Switch Tester
Compatible with the following MPUs: Bally-17, Bally-35, Stern MPU-100, Stern MPU-200 This is a small board that hooks to J3 on a Bally/Stern MPU and can be used to simulate cabinet switches. Mostly useful for people that repair classic Bally/Stern MPU boards that don't want to have to jump wires on this connector in order to simulate entering self-test mode, adding credits, starting a game, etc.
Features
Use DIP switch to set the switch RETURN line
Use Strobe_0 or Strobe_1 button to complete the switch press
Dedicated "SELF-TEST" button lets you easily enter audit mode, run display tests, etc
Usage of the Bally/Stern Cabinet Switch Tester
To use you just plug this into the J3 connector on the MPU board. You can then refer to your game manual for the cabinet switch matrix & which strobe/return lines will activate the switch you want to press. Then, just set the return line on the DIP switch (in ON position) and leave all other DIP switches off. Then press the strobe line to simulate the switch.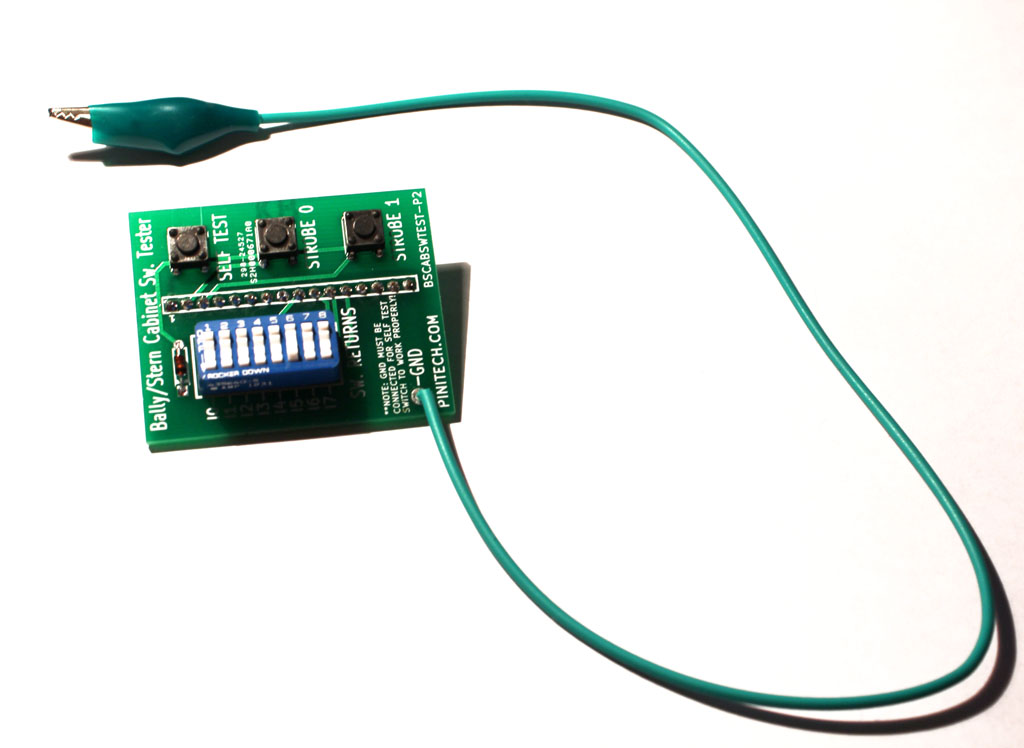 Bally/Stern Cabinet Switch Tester
Price: $19.95
SHIPPING AVAILABILITY

This item ships only to United States, Canada & Australia
SHIPPING INFO
ASSEMBLED "Pinitech" PCBs are manufactured in the US and are currenty only shipping to the United States, Canada & Australia.
DIY Kits and Bare Boards may be available to other international customers. See below for details. Australia, Canada Customers:
There is a minimum order of $25 (before shipping) due to higher international postage costs. Orders exceeding $400 or 4 pounds in weight must ship Priority Mail International & you will be contacted if additional shipping costs are due. Full order value is declared on customs declarations, no exceptions. Other International Customers:
We do not currently ship assembled pcbs to EU at this time. Paypal is configured to accept only orders from United States, Canada & Australia.