Products
>>
Pinball LED Displays
>> Classic Bally / Stern Pinball Conversion LED Display Kits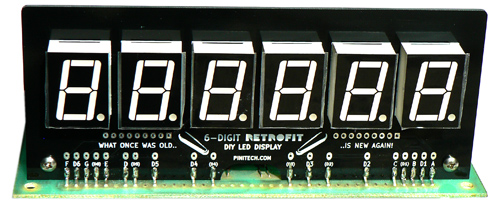 Classic Bally/Stern Conversion LED Display Kits
These are DIY conversion kits to upgrade original Classic Bally/Stern plasma displays into LED displays. The kits include the necessary components to upgrade an original 6-digit or 7-digit Bally/Stern display that has bad plasma glass (ie. out-gassed, burnt digits, broken glass, etc) into an efficient LED display, at a fraction of the cost of assembled aftermarket displays.
Who Are These Kits For?
These kits are meant for the hard-core DIY'er.
They ARE NOT plug-and-play and will require desoldering/soldering of components, proper equipment & technique.
These ARE NOT FULL DISPLAY KITS
, they are conversion kits that include *only* the parts needed to upgrade "donor" original Bally/Stern 6-digit and 7-digit displays that have bad glass (out-gassed, burnt digits, or otherwise broken). You will be desoldering a few dozen resistors and a handful of transistors from the old display's component board, replacing with new components from the kit to support the LED display, then soldering together & installing the LED digit panel. They take approximately 45 minutes each to build if you have proper equipment and experience, though your first display or two may take a bit longer until you get a process down. If you don't mind a bit of work, you can save A LOT of money and also help the environment in recycling old PCBs into something usable again!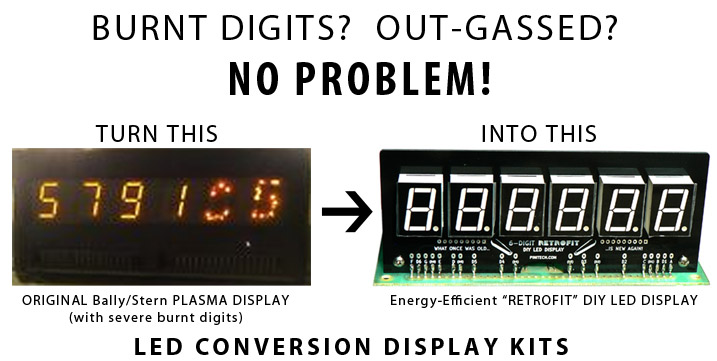 More Info On The Display Kits
These display kits use generic led digits & are best installed into a machine as a full set. If you are a purist, looking for an "original look" that closely matches the plasma displays, there are some things to consider. The segments of the LED digits are thicker than on the plasma digits. There are no commas on the digits. The digits are slightly larger and will look a bit different than the plasma displays. All that said, these displays look *VERY NICE* and we think many people are going to prefer the look over the original once they see the displays in action! They look best as a full set (which also allows you to remove the high voltage fuse from the game), but you can also mix-and-match them with other aftermarket displays or the original plasma displays if you'd like. A WHITE digit display + PLASMA AMBER filter should blend well-enough with original displays. There's a photo below showing a comparison of the original plasma versus LED display. Once again, the digits do not have commas, only decimals. The decimals do not light up, however if you're upgrading a 7-digit Bally AS-2518-58 board, you can optionally enable the decimal if you would like. The Bally AS-2518-58 displays are the only boards that had circuitry for the comma on them.
LED Digit Color Options
Current conversion kits are only offered in BLUE and WHITE digits. WHITE digits allow you to use color filters (led gels) to turn the displays into any color you would like. You can tweak the color to your hearts content with the many combination of color filters out there, combining color filters or changing them down the road if you switch the displays to a different game. We offer quite a few color filter choices, pre-cut to size and have hand-selected many nice looking colors after many hours of fussing about. The WHITE digits will look "yellow" in appearance when the display is off due to how the digit is manufactured. WHITE with a filter won't be as blaringly bright as a native colored led digit (ie. blue led digit versus WHITE with blue filter). The WHITE digits + PLASMA AMBER filter is pretty much spot-on with the original plasma display colors. We're pretty sure many people that think they'd prefer the original plasma color will find over time that they're changing to other colors and complimenting or contrasting with colors in the art on the backglass.. so WHITE digits are a good way to go so you have that option.

Picture: Top display is a WHITE DIGIT conversion display with PLASMA AMBER filter. Bottom display is an original plasma display.
&nbsp

Picture: Native BLUE digit displays.
Digits will "pop" more since these are actual blue digits.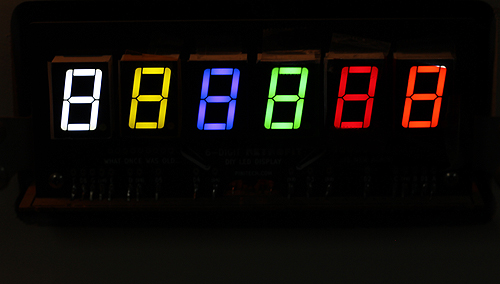 Picture: Various color filters used on a WHITE digit display
Can Brightness Be Controlled?
Yes and No. Brightness is controlled by the brightness resistor values used on the segments. In other words, the displays have a "fixed" brightness. But you can change the resistor to tweak the brightness if you wish. Just know that going brighter (lower value resistor) will use more current and there will be a point where it really doesn't make the display much brighter and you're wasting electricity. It may also affect the color some if using filters. We have attempted to find values of resistors that are plenty bright, while allowing the displays to be energy-efficient. In terms of dimming displays, a neutral color filter over the digits (not supplied) if the digits are too bright.
Are They Efficient? Will They Overload My Game's 5v Supply?
Yes, very much so! A lot of effort was put into making sure the efficiency matched or exceeded any of the more efficient aftermarket led display sets! We're very happy to say a converted display is every bit as efficient as anything else on the market. How do we know? Well, we spent a lot of time and admittedly "nerded out" a bit doing load testing on a Bally/Stern machine to gauge both average load without led displays & also the additional load with led displays. This allowed us to understand what the problem was & how to create displays that were efficient and didn't overly tax the 5v regulators used on these machines. At about 35-60mA each (depending on color/brightness) these displays will at add at most an additional 0.25-0.35 Amp to the load for an entire set. This matches or exceeds the efficiency of other aftermarket displays. These will play nice even with the 3 Amp regulators that some of these machines have. We are running on in a shuffle alley that has a 3 Amp regulator & 7x displays!
How Long Does The Conversion Take?
It's hard to ballpark a time estimate exactly because everyone has different tools and capabilities. Someone with average speed desoldering/soldering capabilities & good tools will probably find the displays take about 45-60 minutes to convert depending on the method used. During beta testing, most of the testers preferred fully replacing components since it's a cleaner look. For full component removal/replacement, first display may take 60-75 minutes or possibly longer since you'll need to follow the steps & understand the conversion process. Once you have the process down, subsequent displays should go faster. Many people have reported 45 minutes per display after they understood the conversion process.
GOOD TOOLS AND SOLDERING/DESOLDERING TECHNIQUES ARE A MUST FOR THESE DISPLAYS!!
Hakko 808 or FR-300 desoldering guns are recommended for component removal. There's also a method to convert a display that minimizes component removal (resistors are soldered in parallel on the back of the board). This cuts down conversion time quite a bit since there's then just 7x transistors to remove/replace & then resistors being soldered on the back of the component board.
Educational Opportunity?
We're sure many people will find after building some displays that they're improving their desoldering and soldering techniques on older boards which can come in handy when servicing much more expensive pinball boards in the future. These conversion kits are a great way to improve your technique on older boards. If you're having issues.. slow down, turn down the heat, change your technique or ask questions
on the Pinside thread
to see how others are desoldering components in easier ways. In this sense, the conversion kits are a bit of an educational tool in working with older boards.
Do They Look Nice After Assembly?
We'll let you be the judge. Below are some pictures of the component side & bottom of an original display that was "cleanly" converted by fully desoldering the components being replaced. You'd need proper desoldering equipment & technique to do this, but it's just to show how clean a conversion can look. Existing footprints on the board were reused & repopulated with new components. The only thing that stands out is a jumper wire on the bottom of the board and of course
PIN #1 ON J1 (High Voltage Connection) is removed
.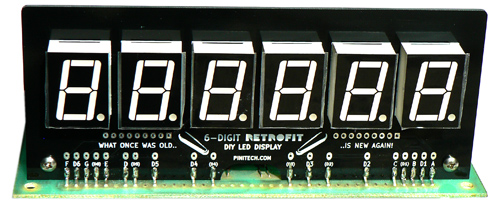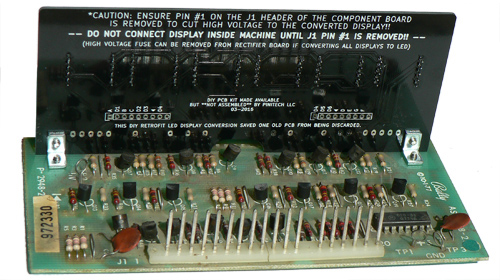 The other way of converting the displays is to minimize components that need to be removed. All of the resistors are soldered in parallel on the back of the board and look pretty tidy overall. Then the only components that need to be replaced are the segment drivers. Here's what soldering the resistors in parallel can look like (will vary depending on the display model):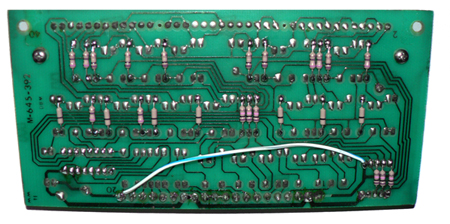 When the displays are installed and you're looking at them from the front of the machine, you really can't even tell that they are utilizing the old Bally/Stern display's component boards. They look every bit as good from the front as any other led display set.
---
AGAIN PLEASE NOTE -- YOU WILL NEED "DONOR" 6-DIGIT AND 7-DIGIT DISPLAYS FOR THESE KITS. ONE FOR EVERY DISPLAY YOU WANT TO CONVERT. THESE ARE NOT FULL DISPLAY KITS, THEY REQUIRE AN ORIGINAL BALLY/STERN 6-DIGIT OR 7-DIGIT DISPLAY TO BE USED AS A DONOR FOR THE CONVERSION.
---
Don't Have Donor Boards?
Ok so all of this sounds great, but you don't have any donor boards. Or don't have enough to create a full set. Should you sacrifice a completely fine working plasma display to complete your set?
PLEASE DON'T SACRIFICE GOOD BOARDS!
Working plasma displays with no digit burn or any visible issues are valuable to others that want plasma displays in their machines. If you're patient & buying/selling machines fairly often, you'll acquire more bad displays in no-time since more and more of these plasma displays are failing each year. Bad displays are perfect candidates for conversion, since it's no longer cost-effective to purchase new glass (at $50+ for the glass alone). So if you don't have enough donor boards now to create a full set -- you will soon enough! Or pick some up at a pinball show, on eBay, etc. Many people are happy to get rid of dead displays for a cheap price! What's nice is about these kits is there's no waste -- you're throwing the plasma display glass that is no longer any good away & salvaging the rest. Instead of storing "spare parts" that may never get used again, or throwing them out.. you're creating something useful out of the useful parts that are still there.
---
Conversion Kit Contents (per single display)
LED Digit Panel PCB
LED Digits
Brackets & Screws for Mounting Digit Panel PCB
A Few Dozen Resistors
7x mosfets for segment drivers
Jumper Wire for 5v Connection
Right angle header pins (to make led panel connections if you cannot reuse the plasma glass leads)
Foam Tape (optional to install around led digits to block light from backbox
Nylon Spacers **Included only with 7-digit kits
Color Filter of YOUR CHOICE **Included only with WHITE digit kits
Bonus Items Included
1x 2n5401 transistors for digit drivers (in case you have a bad one)
For WHITE led sets, a random sample of small (approx 0.5in to 1in) color swatches to try out some other colors
**FULL DISPLAY SETS WILL INCLUDE 5X OF THE ITEMS LISTED ABOVE**
ORDERING INFO
DIY INSTRUCTIONS
There is a PDF link to instructions included with the kits with steps outlined for the conversions, along with a listing of component changes. The document is fairly text-heavy currently, but more pictures will be added over time. There are not step-by-step pictures, however the text is step-by-step and so far everyone that has purchased and built the displays has been happy with the current instructions.
FEEDBACK & PICTURES OF COMPLETED DISPLAYS!
If you're buying your first kit, we'd love to hear some feedback from you in the
Pinside thread
! And regardless if it's your first kit or 3rd, if you're able to take some pictures of the completed displays in your game, we'd also love to fill up the
Retrofit Gallery
with many more games!
ORDERING OPTIONS
AMBER DIGIT CONVERSION KITS

These closely match the original display color of the plasma displays and are native amber colored led digits.

---

6-DIGIT AMBER CONVERSION KIT SET
Includes 5x 6-digit kits
$84.95ea **DISCOUNTED PRICE!** (regularly $87.95)

---

7-DIGIT AMBER CONVERSION KIT SET
Includes 4x 7-digit kits, 1x 6-digit kit
$89.95ea **DISCOUNTED PRICE!** (regularly $97.95)

BLUE DIGIT CONVERSION KITS

Bright native blue colored led digits, really make games like Xenon pop!

---

6-DIGIT BLUE CONVERSION KIT SET
Includes 5x 6-digit kits
$89.95ea

---

7-DIGIT BLUE CONVERSION KIT SET
Includes 4x 7-digit kits, 1x 6-digit kit
$94.95ea **DISCOUNTED PRICE!** (regularly $99.95)

WHITE DIGIT CONVERSION KITS

These are the most versatile of all the display sets, allowing you to change colors by swapping out filters at any time. The filters are re-useable as they are non adhesive-backed, you just use very small piece of double-sided tape or scotch tape at both sides. Great if you *REALLY* want to find that perfect color!

---

6-DIGIT WHITE CONVERSION KIT SET

Includes 5x 6-digit kits + color filter of your choice

$94.95ea

---

7-DIGIT WHITE CONVERSION KIT SET

Includes 4x 7-digit kits, 1x 6-digit kit + color filter of your choice

$99.95ea

**DISCOUNTED PRICE!**

(regularly $104.95+)

*COLOR FILTER**

You get 1x color filter per display (or per display set) ordered. See the color filter choices below. Please write-in the color (of your choice) in the "Color Filter" box below before adding to your cart.

contact us

to order for these machines and we'll create a custom invoice with set discounts factored in.

---

Available Color Filters (for WHITE digit sets only):

REGULAR COLORS

PLASMA AMBER
Match to original plasma display color & native amber led digits.
MEDIUM RED
A nice medium red.
MEDIUM BLUE
Close match to native blue led digits.
MEDIUM GREEN
Medium green, plenty saturated. Resembles Sys80 green filters.
MEDIUM YELLOW
A well-saturated medium yellow.
NEUTRAL
Tones brightness down if using WHITE digits as WHITE (ie. Centaur, etc)

ADDITIONAL COLORS (MAY CHANGE):

DEEP AMBER
A slightly darker/deeper orange than PLASMA AMBER that looks great as a set!
DEEP RED
A darker, more saturated red. This probably resembles native red led digits a bit more than the medium red.
LIGHT BLUE
A lighter blue than native blue led digits.
LIGHT GREEN
A lighter, pastel looking yellowish-green.
LIME GREEN
A vivid yellow/green that pops!
MAGENTA
A hot pink color that really pops! Should look great in Playboy!
MEDIUM PURPLE
A nice light/medium purple. Somewhat lavender in color.
STRAW YELLOW
Looks like the yellow in a saturated image of a straw in a cornfield. Deeper yellow than the medium yellow.
TURQUOISE
A lighter blue that's pretty bright.

*Note: Color representations above are just representations of the color & may not match the color exactly. Darker colors will not be as bright as lighter colors since the darker filter tones down the brightness.

Need help deciding which color filter?

Check out the photo gallery! WANT TO ADD EXTRA SETS OF COLOR FILTERS?

If you'd like to add some additional sets of color filters to your order you can do that here. You get 1x set of color filters (5 per set) of your choice per set of display kits, so these filters would be in addition to that if you'd like to try some other colors.
Single display conversion kits are also available via email if you're not interested in a complete set.
SHIPPING AVAILABILITY

This item ships only to United States, Canada & Australia
SHIPPING INFO
ASSEMBLED "Pinitech" PCBs are manufactured in the US and are currenty only shipping to the United States, Canada & Australia.
DIY Kits and Bare Boards may be available to other international customers. See below for details. Australia, Canada Customers:
There is a minimum order of $25 (before shipping) due to higher international postage costs. Orders exceeding $400 or 4 pounds in weight must ship Priority Mail International & you will be contacted if additional shipping costs are due. Full order value is declared on customs declarations, no exceptions. Other International Customers:
We do not currently ship assembled pcbs to EU at this time. Paypal is configured to accept only orders from United States, Canada & Australia.