Products
>>
Pinball Diagnostic Tools
>> Bally/Stern Playfield Switch Tester (40 switches)
Bally/Stern Playfield Switch Tester (40 switches)
Compatible with the following MPUs: Bally-17, Bally-35, Stern MPU-100, Stern MPU-200 This is a "40 switch" switch matrix tester that plugs directly into the J2 header pins on a Bally/Stern MPU and can be used to test MPU circuitry for all 40 playfield switches. You can use this at the bench to test switch circuitry on the MPU board, or as a tool to isolate switch/wiring issues inside a machine.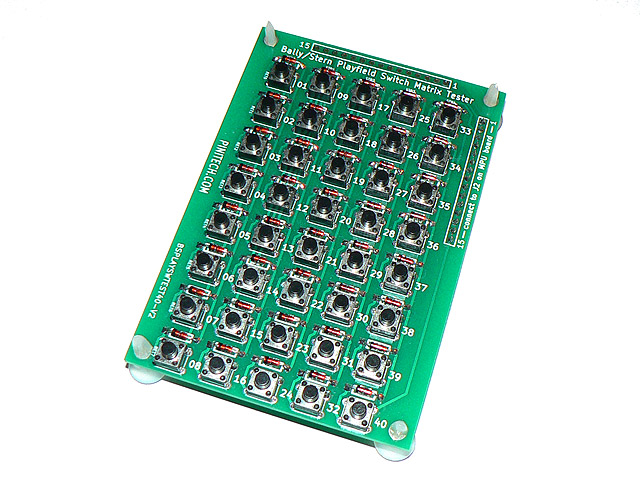 Features
40 dedicated switches for instant access to all 40 playfield switches
Extra footprint for 2.54mm male header pins (if you ever want to create a wire harness for it) *see note below
Plugs directly into the MPU board so it's very portable. No extra wires.
*Note: No wire harness is included. The board plugs directly into the MPU as shown in the photos below. If you would like to create your own wire harness there is an extra footprint on the board to allow for this.
Although uncommon, there are a few Bally games that have a 6th strobe (ST5) at A4J4-5 on the MPU that add 8 additional switches (total of 48 switches). These include Centaur, Medusa, Spectrum and Fathom. Switch numbers 41-48 on these games cannot be tested with this 40-switch tester. You could create a separate wire harness however if you wanted to swap-in these switches at the unpopulated 2.54mm header on the board.
Usage of the Bally/Stern Playfield Switch Tester
To use you just plug this into the J2 connector on the MPU board. You can then refer to your game manual for the playfield switch numbers and functions and simulate scoring, credits being added, outhole, tilt, etc.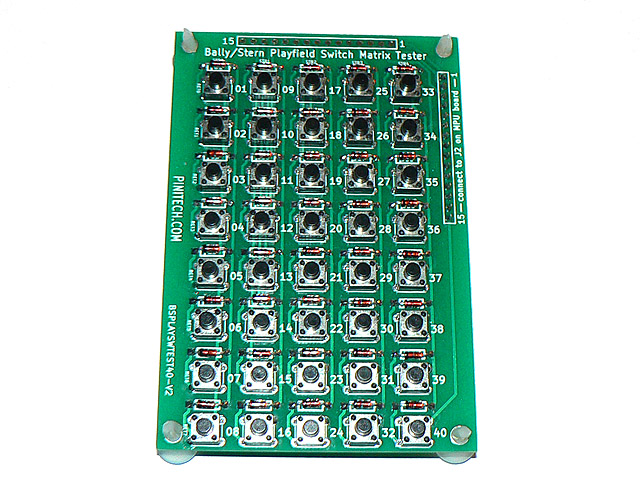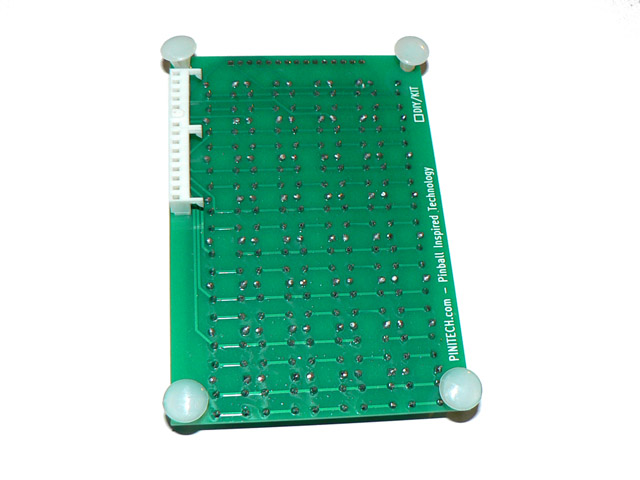 PURCHASING OPTIONS:
Option #1: Kit - No assembly instructions! ($29.95 each) This is the bare board and components necessary to build a switch matrix tester. **BOARD SHIPPING WITH THESE IS NOW GREEN** This is for DIY'ers that want to save a few dollars by assembling the tester themselves. Build time is approx 1-2hrs for someone experienced with soldering PCB boards. There are a lot of switches and diodes so it all just takes time to assemble and solder unfortunately, thus the higher cost of the fully assembled units. Does not include assembly instructions, but will include usage instructions.
Option #2: Fully Assembled ($59.95 each) This is a fully assembled switch matrix tester, all ready to be plugged into the MPU board. Tested for functionality prior to shipping.
Please CONTACT US for availability if interested in this item.
SHIPPING AVAILABILITY

This item ships only to United States, Canada & Australia
SHIPPING INFO
ASSEMBLED "Pinitech" PCBs are manufactured in the US and are currenty only shipping to the United States, Canada & Australia.
DIY Kits and Bare Boards may be available to other international customers. See below for details. Australia, Canada Customers:
There is a minimum order of $25 (before shipping) due to higher international postage costs. Orders exceeding $400 or 4 pounds in weight must ship Priority Mail International & you will be contacted if additional shipping costs are due. Full order value is declared on customs declarations, no exceptions. Other International Customers:
We do not currently ship assembled pcbs to EU at this time. Paypal is configured to accept only orders from United States, Canada & Australia.