Products
>>
Pinball LED Displays
>> Classic Bally / Stern Pinball LED Display - Pinitech UNO (Single PCB)
Pinitech UNO (Single-PCB)
Classic Bally/Stern LED Displays
Full replacement LED display for Classic Bally/Stern pinball machines that breaks away from tradition and is fully contained on a single PCB design allowing for a few tricks of its own.
Available as a DIY Kit or Fully Assembled.
If you're a bit OCD like we are with lining things up, maybe you've been driven nuts by seeing displays out of alignment with the display windows in your game. Sometimes digits can be cut-off slightly at the edges or the digits don't line up well with the credit display windows in the backglass. This problem is even more annoying on games like Xenon where the backglass is built into the door. Well, this style of display can help bring you somewhere more Zen. Displays shifted too far to the right or left? No problem, shift them back the opposite way!
Features:

NO HIGH VOLTAGE!
Low current usage. Displays play nice with the 5v regulator!
Straight-forward assembly for DIY'ers with a soldering iron. All new parts!
Adjustable Brightness! Set brightness to your liking!
Available in 6-digit or 7-digit models (AMBER, BLUE or WHITE digits)
Can be mixed with plasma displays if desired
Decimal/Dot can be enabled or disabled on both 6-digit and 7-digit displays
The UNO design allows you to shift the displays left or right for that perfect ZEN feeling! *UNO-only feature
Displays mount with original hardware, with or without the existing display brackets left in place.
No worries about displays moving in machine during transportation after installation.
These are great looking LED displays that are energy efficient & low-current usage. Available in AMBER, BLUE and WHITE.
WHITE allows for unlimited color choices using color filters that adhere to the LED digits. Replacement For: Bally AS-2518-15, Bally AS-2518-21, Bally AS-2518-58, Stern DA-100, Stern DA-300
---
UNO DESIGN CONSIDERATION **Please Read**
While the Pinitech UNO should work fine for most games, some games may require modification for the UNO displays to fit. There needs to be roughly 3/16" clearance above and 3/8" clearance below the display brackets to fit & additional clearance if you want ability to shift the displays left or right.
See this picture for clearances.
Also shown are built-in snap points on the PCB that should allow you to work around clearance issues with lamp surrounds. For games with many obstructions near the display brackets, you'll want to consider the
Pinitech TRADITIONAL LED Displays
. Examples where the UNO would need to be modified to fit properly would be
Player #2 display on Strikes and Spares
and
Player 1-4 displays on Star Trek
. In these examples the top tab on the UNO mounting points could be
snapped off
on the offending side & just the bottom mounting screw gets used on that side of the display.
---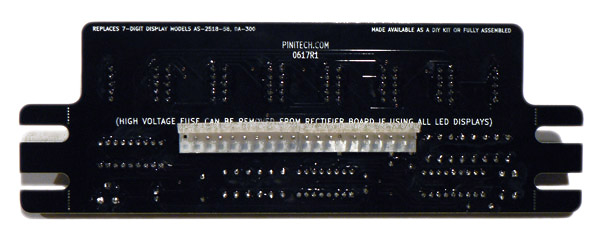 See more pictures of the Pinitech UNO in-action in this
Pinside Thread
.
ORDERING INFO
DISPLAYS ARE SOLD IN SETS AS FOLLOWS:
6-DIGIT SET = 5x 6-digit displays
7-DIGIT SET = 4x 7-digit displays + 1x 6-digit display (credit/match)
Note: A few games may require additional displays (ie. Six Million Dollar Man, Elektra, Medusa, Mr & Mrs Pac-Man, Vector, Lightning).
Please contact us directly to order for these machines and we'll create a custom invoice with set discounts factored in.
DIY KITS
DIY Kits include all the components necessary to assemble these great looking displays, while saving you some hard-earned money. You will need basic soldering tools and experience. A temperature-controlled soldering iron is recommended, however you can get by with a 25w soldering iron with a small tip. All new components. Full assembly instructions are included.
ASSEMBLED DISPLAYS
Not a DIY'er? That's okay, we also sell Fully Assembled plug-and-play displays, ready to be installed in your machine.
These are currently built on-demand and will add 2-3 additional business day processing time to your order.
If unable to select ASSEMBLED options below, please
Contact Us
with your order request.
Foam Tape for light blocking around edge of the digits is optional. The tape is not ideal for the UNO design, but it's free if you want it :)
---
6-DIGIT DISPLAY SETS (DIY KIT)
*Color Filter is only for WHITE digit sets, leave this option blank if not ordering WHITE digit displays.
For color choices, you can refer to the
RETROFIT kits
page at this time. One set of color filters is included with the price of the WHITE digit sets.
---
7-DIGIT DISPLAY SETS (DIY KIT)
*Color Filter is only for WHITE digit sets, leave this option blank if not ordering WHITE digit displays.
See color filter choices below. One set of color filters is included with the price of the WHITE digit sets.
Additional color filters can be added to our shopping cart below.
---
COLOR FILTER CHOICES
*Color filters are meant for WHITE digit sets
REGULAR COLORS

PLASMA AMBER
Match to original plasma display color & native amber led digits.
MEDIUM RED
A nice medium red.
MEDIUM BLUE
Close match to native blue led digits.
MEDIUM GREEN
Medium green, plenty saturated. Resembles Sys80 green filters.
MEDIUM YELLOW
A well-saturated medium yellow.
NEUTRAL
Tones brightness down if using WHITE digits as WHITE (ie. Centaur, etc)

ADDITIONAL COLORS (MAY CHANGE):

DEEP AMBER
A slightly darker/deeper orange than PLASMA AMBER that looks great as a set!
DEEP RED
A darker, more saturated red. This probably resembles native red led digits a bit more than the medium red.
LIGHT BLUE
A lighter blue than native blue led digits.
LIGHT GREEN
A lighter, pastel looking yellowish-green.
LIME GREEN
A vivid yellow/green that pops!
MAGENTA
A hot pink color that really pops! Should look great in Playboy!
MEDIUM PURPLE
A nice light/medium purple. Somewhat lavender in color.
STRAW YELLOW
Looks like the yellow in a saturated image of a straw in a cornfield. Deeper yellow than the medium yellow.
TURQUOISE
A lighter blue that's pretty bright.
*Note: Color representations above are just representations of the color & may not match the color exactly. Darker colors will not be as bright as lighter colors since the darker filter tones down the brightness.
Need help deciding which color filter?
Check out the photo gallery!
---
WANT TO ADD EXTRA SETS OF COLOR FILTERS?
If you'd like to add some additional sets of color filters to your order you can do that here. You get 1x set of color filters (5 per set) of your choice per set of display kits, so these filters would be in addition to that if you'd like to try some other colors.
---
SHIPPING AVAILABILITY

This item ships only to United States, Canada & Australia
SHIPPING INFO
ASSEMBLED "Pinitech" PCBs are manufactured in the US and are currenty only shipping to the United States, Canada & Australia.
DIY Kits and Bare Boards may be available to other international customers. See below for details. Australia, Canada Customers:
There is a minimum order of $25 (before shipping) due to higher international postage costs. Orders exceeding $400 or 4 pounds in weight must ship Priority Mail International & you will be contacted if additional shipping costs are due. Full order value is declared on customs declarations, no exceptions. Other International Customers:
We do not currently ship assembled pcbs to EU at this time. Paypal is configured to accept only orders from United States, Canada & Australia.