Products
>>
Pinball Mods
>> PIGGY DEUX (Gottlieb System 80B Piggyback Alternative)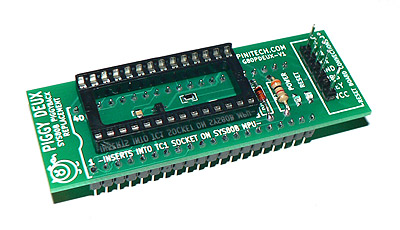 PIGGY DEUX (Gottlieb System 80B Piggyback Alternative)
Manufacturer: Pinitech This is an alternative piggyback board for Gottlieb System 80B machines and is meant as a plug-and-play fix on System 80B MPUs that have daughterboard issues that are causing the machine to lock-up or reset intermittently (or in some cases, stop working altogether unless you press on the daughterboard). As many people are aware, the Gottlieb System 80B boards used a piggyback / daughter board that was soldered directly to the MPU. Over time, the solder joints fail and this causes the machine to freeze up, reset during use (due to vibration and/or expansion/contraction of cold solder joints) or the game may not even start up at all. Many times those issues are entirely the fault of the piggyback board and it's solder connections.
The PIGGY DEUX is a no-fuss, plug-and-play way to solve daughterboard issues.
Instead of attempting to repair the original daughterboard, you can leave that in place. Instead, the PIGGY DEUX plugs into the TC1 socket at the top of a System 80B MPU. No board modifications. No damage to your MPU. All you have to do is take the 2764 EPROM from the original daughterboard, insert it into the PIGGY DEUX, then plug the PIGGY DEUX into the MPU board. That's all there is to it! If you'd like to keep the reset board in-circuit there is also a header on the PIGGY DEUX to make the connections for that and we sell the wire harness to easily make the connection between the PIGGY DEUX and reset board.
USE AS A DIAGNOSTIC TOOL
The PIGGY DEUX is also useful as a diagnostic tool in that it can help to rule-out the original daughterboard from being the issue. Great to carry in a toolbox since it's small/portable and since it's plug-and-play (just remove the eprom from the original daughterboard and plug into the PIGGY DEUX) you can quickly find out if cracked solder joints on the MPU were causing intermittent issues or a non-working game.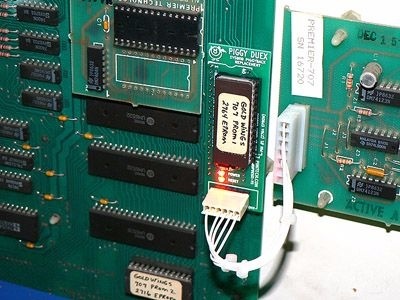 PICTURE: PIGGY DEUX installed at the TC1 header in a System 80B MPU.
Eprom moved to PIGGY DEUX board. Original daughter board is no longer used.
------ PLEASE NOTE BEFORE PURCHASING-------


THIS BOARD IS INTENDED TO WORK WITH SYSTEM 80B MPUs (ie. Gottlieb games that have the alphanumeric display).
This is not a "magic bullet" fix for a non-working game.
Non-booting machines could be caused by power supply issues, battery corrosion damage to the MPU board, wire harness/connector issues, bad EPROMs, blown fuses and many other reasons. If someone has tried repairing the original daughterboard and botched traces and pads already, this will also affect the ability for the PIGGY DEUX to work properly. The PIGGY DEUX is intended for non-hacked boards that have cold solder joints at the original un-hacked daughterboard. It's not as a magic-bullet for previously botched repair attempts, etc. Please have a reasonable idea before purchasing that your issue(s) are due to your daughterboard having cracked solder joints (see below).
How can you tell if this board may help you?
If pressing on the daughterboard while powering on the machine or after the machine is booted causes the game to lock up or reset, then it's very likely your issue is with the solder joints on the daugherboard. The PIGGY DEUX will help.
**YOU WILL NEED TO USE YOUR EXISTING EPROM**
We do not and cannot provide eproms with this board due to Gottlieb licensing rights. You will have to use your existing EPROM or source an EPROM for your game.
---
Unfortunately this product is not available for purchase via shopping cart at this time.
This may be due to one or more of the following reasons:
Product is not available for immediate shipment and/or is built on-demand as time permits
Product has low demand and is awaiting more waitlist signups for the next PCB order / batch assembly
Product is out of stock due to material shortage
Want to get notified when this product is available again? Sign-up below!
X
WAITLIST SIGN-UP
PIGGY DEUX (Gottlieb System 80B Piggyback Alternative)
---
HOW'S THIS WAITLIST THING WORK?
---
GET SIGNED UP BELOW!
*Please sign up ONLY if you're interested in purchasing this item as soon as it's available.
In some cases you may be contacted within a few days if we have materials to fulfill your order.
For low-demand products (like diagnostic tools), we are now ordering PCBs and/or assembling boards in batches when there is sufficient demand. Getting signed up below is the way to increase demand for this product and makes it more likely we'll fulfill the requests!
We'll contact you as soon as we have some ready-to-ship! You won't hear a blip from us otherwise :-)
Sound good? Great!!! Fill out the form below, and we'll be in touch!
---
GET ADDED TO THE WAITLIST!
---
WARRANTY INFORMATION
Pinitech LLC offers a 180-day limited warranty against defects on all ASSEMBLED products manufactured by Pinitech. Warranty does not cover improper installation or modifications beyond intended use. DIY Kits are handled on a per-case basis and limited to parts replacement only. Due to their nature, we cannot warranty assembly done by others on DIY Kits.
LIABILITY INFORMATION
This product was designed ONLY for the purpose as stated in the product description. Pinitech LLC cannot control conditions of installation or use (ie. inadequate repairs of machines, improper installation, aftermarket modifications, etc).
End user agrees to assume any and all liablity of this product.
In no event shall Pinitech LLC be liable for any direct, indirect, punitive, incidental, special consequential damages, to property or life, whatsoever arising out of or connected with the use or misuse of our products.
TECHNICAL SUPPORT
If you have any issues with using this product, please email us! We're happy to help answer your questions & will do our best to resolve any problems you may be having.
You can email us using the information on the
Contact
page. We usually respond within 24-48 hours.
---
SHIPPING INFO
Pinitech products are only shipping to the United States. International orders will be rejected or refunded immediately.